Why Are We SO Obsessed With Celebrities?
The first real wave of the fangirl fever I experienced of my own accord (I was heavily dosed with Bruce Springsteen's music growing up and the admiration remains) was when I watched the music video to Taylor Swift's "You Belong With Me" back in 2009.
Bright lights, fancy dinners, an enviable wardrobe and most importantly a flurry of adoring fans. Isn't that what we all think of when pondering the word "celebrity"?
Maybe it's the sheer razzmatazz surrounding the entire famous species that we simply cannot get enough of or perhaps they're just momentary representations of our ostentatious alter-egos.
Clearly, as an entertainment journalist, I am partial to indulging in a dose of celebrity. I mean - it's a bit difficult not to when my career path is something of a manifestation of my teenage celebrity adoration.
The first real wave of the fangirl fever I experienced of my own accord (I was heavily dosed with Bruce Springsteen's music growing up and the admiration remains) was when I watched the music video to Taylor Swift's "You Belong With Me" back in 2009.
The revelation was followed by what was a monumental discovery for me, Swift's 2008 sophomore album, Fearless.
I'll never forget what listening to the record for the first time at my desktop felt like. Goosebumps. Hearing Swift's soothing lyrics to "Fifteen" felt like I was finally understood.
"Count to ten, take it in. This is life before you know who you're gonna be, at fifteen."
It was a brief moment of feeling like all of my adolescent fears were just that, fears.
After what felt like months – but was really days – of angsty teenage discovery, I swiftly joined Twitter after becoming aware this was the place for any real Taylor Swift fan to find out when my newly found hero would be touring in the U.K.
What began as a means to stay updated on all the latest news quickly became a place to interact with other fans, people who shared the same emotional connection to Swift's lyrics through their own unique life experiences.
Over time, the social media platform evolved into a hub for shared experiences (and inside jokes) amongst fans, the crème de la crème being concerts, livestreams and album releases.
A year after I'd been exposed to this whole Narnia-like world I found myself using Swift's music and community as a crutch for the more challenging times in teenage life.
When I had a really bad day and struggled to find my footing, it was her music that grounded me.
The concept of music being an incredibly powerful escape from real life and an inspiration to keep powering on is far from novel.
People turning to music in times of hardship and sadness is a tale as old as time.
As part of this emotional investment comes somewhat of a financial investment, namely in the form of albums and merchandise.
This inevitably comes with the commitment of choosing to support someone. Simply put, you want to.
However, it would be foolish not to acknowledge the power of the influence our favourite stars have on us.
Data research company Statisa found that music artists and bands made up 57% of the celebrities or public figures followed on social media platforms, as of April 2018, according to social media users worldwide.
Subsequently, they also found that as of 2019 and 2020 the average amount of time spent on social media by internet users worldwide was 145 minutes per day, a three minute increase from the previous year.
In other words, we spend an awful lot of time being exposed to content from our most adored stars.
Generally, this includes a reel of content showcasing their idealistic lifestyles, behind the scenes of their biggest moments, meetings with their celebrity friends and a peak into upcoming ventures.
Whilst social media was far from the giant it is today when I was in my teenage years, it inevitably influenced my decision to go from celebrity lover to celebrity journalist.
After years of watching interviews and thinking, "Why didn't they ask this or that?" I decided I should probably do it myself. And I did.
Naturally, whenever someone hears "showbiz reporter" they're always keen to hear which celebrity left me the most "starstruck."
One name immediately springs to mind…Sir Tom Jones.
It was January 2018, at The Voice UK press junket, I was in a room full of buzzing journalists all eager to see one of the show's staple coaches, Sir Tom. As the other journalists and I mingled waiting for the coaches, Sir Tom, Olly Murs, Will.i.am and Jennifer Hudson to arrive, we all gushed over our shared excitement.
Don't get me wrong, I was ecstatic to be speaking to all of the coaches, they are all incredibly talented in their own right, but growing up listening to Sir Tom crooning the words to It's Not Unusual made this something of a full-circle moment.
As someone who has been fortunate enough to speak to a number of A-list celebrities, one thing I've learned is that most are incredibly normal people and often the biggest connection you can make with them is, indeed, a human one.
However, I'd be lying if I didn't say that meeting Sir Tom was somewhat different from the rest.
Back to the junket. We were all invited to take seats around designated press tables and moments later Sir Tom walked in. It's no exaggeration when I say I could feel the elation in the room amp up a notch or two. There was a tangible aura around him, a true celebrity aura, unlike anyone else. It's like you could sense that you were in the presence of greatness.
After the other journalists and I whizzed through our reel of questions, we politely asked to take photographs with the coaches and before he knew it there was a confident line which had formed in front of Sir Tom.
It was my turn next and I found myself greeted with a very warm "Hello darling!" as I walked up to him. He had the true charm of a Welshman.
Honestly, I think I was so in the moment that some of the memory is slightly blurry. I do remember telling him that I was incredibly pleased to be meeting him, something that despite having heard millions of times, I'm sure, he seemed genuinely touched by. He was in some ways jarringly humble. He then happily posed for a photograph and thanked me for coming down. Such a gentleman.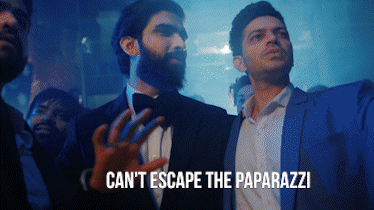 People often ask if celebrities are typically less exciting and more disappointing than you hope they'll be. The honest answer is that it really varies. In some ways they don't stand a chance of living up to the glass pedal stools we've put them on. They have their good and bad days like anyone else.
To a certain extent I can't help but question whether we as people have become accustomed to expecting certain behaviours from a person who frankly does not know us.
Some argue that the fans have given them their platform, absolutely true. Others argue that when they're "off-duty" and not working they deserve to just be a normal person, also very true. The real question is whether they owe you anything. If in doubt, adopt Harry Styles' mantra here and treat people with kindness.
So, why is it we're so obsessed with celebrities and their associated culture? For some it's undeniable that their icons provide a sense of hope and inspiration in times of difficulty. For others it's the chance to temporarily travel a great mental distance from their real-lives in true escapism.
Even for those people who don't endorse celebrities, most would admit to having indulged in some form of celebrity culture at one time or another. Typically, this is because it's easy and representative of a life(style) that is so far removed from their own.
Whether celebrities are a means to self-discovery or simply an avenue to escape, it seems that the commonality is that they're frequently used as a way of fulfilling a specific need.
This begs the question, are we all so obsessed with celebrity culture because we've moulded these people into whatever it is we need them to be, heroes, inspirations, a temporary escape?